.

CONTENTS:




INSIDE THE FX OF:





A NEW DUNE ON THE RISE

By Jon Fontenot
The new original "Dune Miniseries" due out on the "sci-fi Channel" on December 3rd, 4th and 5th looks to be an event not to miss. I hope you have cable or if not perhaps there will be a video offering. As far as FX are concerned it sure enough promises to be spectacular. With such companies working on those effects as Area 51, Ai Effects, Digital Firepower, E=mc2 Digital and Netter Digital, it promises to be filled with FX busting out of the seems.
| | |
| --- | --- |
| According to Writer/Director John Harrison this new "Dune" was shot using a system that the Director of Photography Vittorio Storaro invented himself called "35mm Univisium" and is a three-perf film system formatted 16:9 designed for wide screen theatrical format. In addition, according to Harrison the sci-fi Channel is going to air in that wide screen format. Harrison says, " I did not want to use voiceover or narration and so the trick was to find ways of externalizing those thoughts into conversations and dialogue, that was most difficult. | |

| | |
| --- | --- |
| | The cast and crew all confer that this is a very "faithful to the book" rendition to which Harrison states that " I had no interest in redesigning the book or excerpting the book from my own point of view." Harrison also says that "I think the center of this adaptation is the epic journey of Paul Atreides from his boyhood to enlightenment. And the terrible consequences of that odyssey." |

| | |
| --- | --- |
| It takes time to write any script and this one was no exception Harrison says, "Once I got the story adaptation down, which took a few months, the first draft of the script took about 4 and ½ months from there. Then I did a set of revisions and that was another couple of months. All in all, it took me about a year. That was to adapt the script into the screenplay that we shot. Of course, once we started prepping, I had to do some minor rewrites to accommodate production situations. | |

| | |
| --- | --- |
| | Early pictures put up on the sci-fi Channel's web site (seen here) where taken down. Many fans didn't understand why but it seems that there was a direction change from the original thought on the "look" of the worms. Harrison himself has stated that, "the look of the sand worms in this version will be different then any I've seen so far … on film or in books." And added "I worked very hard on this with my production designer, Kreka, and my special effects wizard, Ernest Farino. Together with the magicians over at Area 51, I think we've come up with a completely unique, frightening and definitive version of the worm." |

Harrison has confirmed that there will be a DVD in the near future so if you don't have cable and would like to see this film that is good news. Also for some of my readers here's a little keynote, New Amsterdam Entertainment will be releasing a book called " The Secrets of Frank Herbert's Dune" to be released October 31st for $18.95.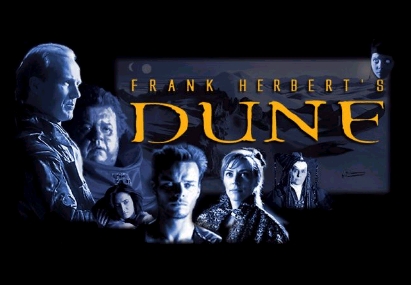 DUNE MINISERIES
Sci-Fi Channel (Cable Television)
DIRECTOR John Harrison
TV AIR DATES December 3rd, 4th & 5th - 2000
STATUS Postproduction
PRODUCTION VFX SUPERVISOR Ernie Farino
AI Effects VFX SUPERVISOR Tony Alderson
Area 51
VFX SUPERVISOR Tim McHugh
DIGITAL COMPOSITING SUPERVISOR Glenn Campbell
DIGITAL FX SUPERVISOR Scott Wheeler
3D FX SUPERVISOR Don McCoy
Chiodo Brothers Productions
Digital Firepower
VFX SUPERVISOR Kim Lavery
VFX SUPERVISOR Charles Darby
E=MC2 Digital VFX SUPERVISOR Paul LeBlac
Flat Earth Productions
VFX SUPERVISOR Kevin Kutchaver
VFX SUPERVISOR Doug Beswick
Laser Pacific
Netter Digital VFX SUPERVISOR Laurel Klick
Title House Digital (THDX) VFX SUPERVISOR Bruce Johnson
KNB EFX Group
Science Fiction novelist Frank Herbert's epic -- a futuristic tale
of political intrigue and planetary ecology -- remade as a six-hour
miniseries, with locations ranging from Prage to Tunisia.
WRITER
John Harrison
PRODUCTION COMPANIES
New Amsterdam Entertainment / BetaFilm
Tandem Communications (in association with USA Network)
PRODUCERS
Richard P. Rubinstein / Mitchell Galin
DIRECTOR OF PHOTOGRAPHY
Vittorio Storaro
PRODUCTION DESIGNER
Miljen Kreka Kljakovic
CAST
William Hurt / Giancarlo Giannini
Alec Newman / Ian McNeice